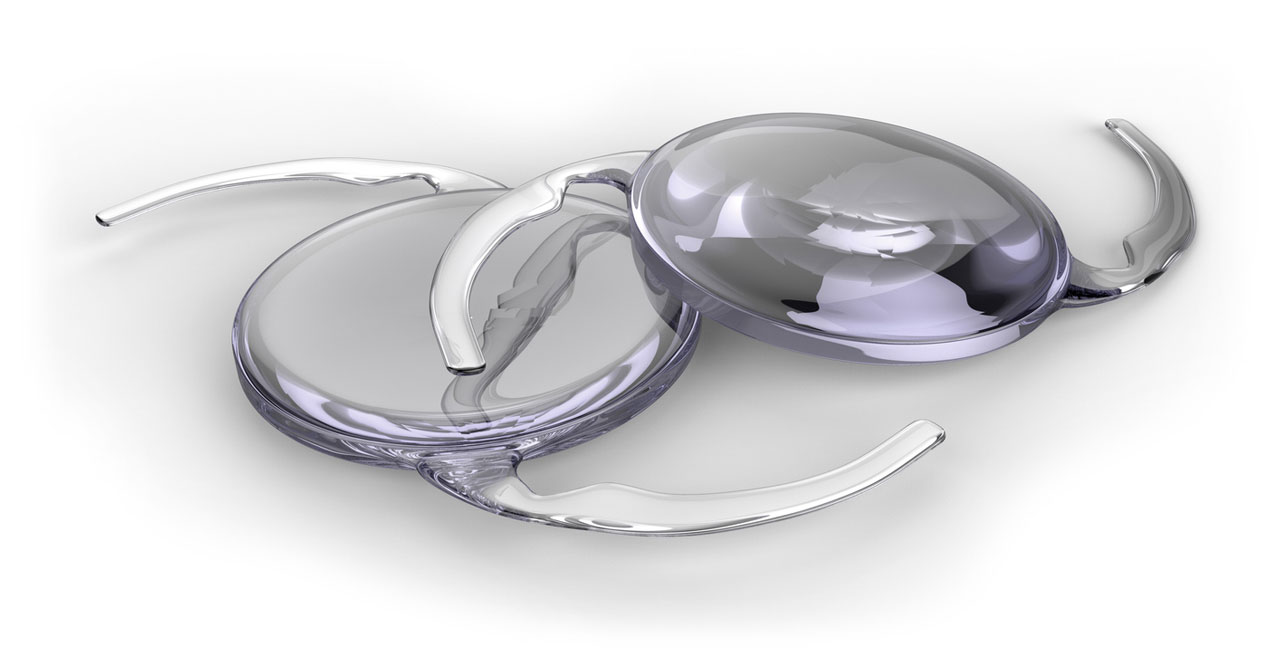 Monofocal and Multifocal Lenses for the Greater Buffalo, NY Area
Lens Replacement
At the time of cataract surgery, an intraocular lens (IOL) will be placed inside the eye. The size and power of this implant is custom fitted to the unique shape of your eye and will reduce your dependence on glasses. The IOL itself and the resulting vision are expected to last the remainder of your lifetime.
As you can imagine, there are many manufacturers and styles of intraocular lenses, each with certain advantages and disadvantages. In general, lenses are classified as either monofocal or multifocal. Monofocal lenses provide vision at a single focal point. In general, this is calculated such that distance vision is in focus, but objects at near are blurry unless a pair of reading or bifocal glasses are used. In contrast, multifocal lenses provide vision at several points (distance, intermediate, and near) without the need for distance or reading glasses. At Siedlecki Cataract & Vision Care, our team of doctors have the experience to place both monofocal and multifocal lenses to best meet the needs of our clients. Contact our offices today to learn more about the benefits of each intraocular lens. If you believe you may be a good candidate for eye surgery or you've been experiencing dry eyes or blurred vision, please feel free to schedule a consultation with us! We're proud to help patients in the Buffalo, Amherst, Williamsville, Orchard Park, North Tonawanda, Cheektowaga, West Seneca, Hamburg, East Aurora, and Clarence, NY communities see clearly throughout the day.
Below are the primary lens types we offer.
Silicone monofocal IOL:
These lenses have been used for decades and provide good vision at a single focal point (typically 10-20 feet). Since this is a monofocal lens, reading and/or computer glasses will be required for tasks within arm's reach. They do not correct astigmatism, so patients are expected to require glasses at both distance and near (e.g., a bifocal or trifocal) for their best vision. Patients who undergo vitreoretinal surgery with silicone oil in the future may develop deposits.
Acrylic monofocal IOL:
A more modern take on the classic silicone lens, the acrylic lens has a higher optical quality and structural stability. Additionally, some acrylic lenses come in quarter-sizes (compared to the usual half-sizes), meaning they can be fitted to the eye in a more accurate and customized manner than silicone lenses. Others come with enhanced ultraviolet and blue-blocking properties which many experts believe protect the retina from phototoxic injury. They are still monofocal lenses that do not correct astigmatism, and thus patients will require glasses for reading and those with astigmatism will need glasses for distance and near.
Toric monofocal IOL:
In short, toric IOLs are a specialized subset of acrylic monofocals for patients with astigmatism. These IOLs are an excellent choice for those who experience blurred vision caused by astigmatism. This happens as the result of an irregular shape in the cornea at the front of the eye. These lenses are able to treat a large magnitude of astigmatism, but come in a wide range of powers for those with milder amounts of astigmatism. Since this is a monofocal lens, reading glasses will be required for near targets.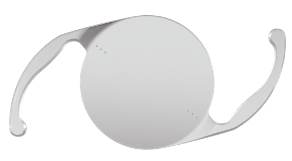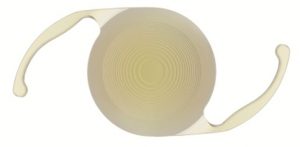 Multifocal (MF) and Extended depth of focus (EDOF) IOL:
After cataract surgery, the eye does not have an ability to change its point of focus without a pair of glasses, a condition known as presbyopia. For patients who wish to minimize their use of reading and distance glasses after cataract surgery, multifocal and extended depth-of-focus lenses are a great option.
Multifocal and extended depth-of-focus IOLs are acrylic toric lenses that have multiple focusing rings designated for various distances. They correct astigmatism, so patients who select this lens are expected to not require glasses at distance, intermediate, and near. These lenses work best in an eye without any other problems. Some patients choose to use over-the-counter reading glasses occasionally for very fine print. Patients may note halos with incoming light while driving at night. The overwhelming majority of patients (97%) are happy with this lens choice.
There are several different types of premium multifocal and EDOF lens implants available for cataract patients. There is no substitute for experience when it comes to deciding which patients fit best into which lens. Dr. Siedlecki and his staff have matched thousands of patients with these types of implants since the earliest models were first approved by the FDA in 2006, involving both of his parents!
Between the choices of lenses available and the latest surgical techniques, there has never been a better time to have cataract surgery.
Premium lenses are not paid for by most major insurers. We make every effort to assist our patients in obtaining these high-technology lenses. To make premium lenses affordable, Siedlecki Cataract & Vision Care offers many financing options. For more information about our no-interest or low-interest financing through Care Credit, click on the link provided.

After cataract surgery, many people experience a gradual clouding on the covering of the new lens, a condition known as Posterior Capsular Opacification (PCO) or a 'secondary cataract.' This type of clouding is very common after cataract surgery and can cause blurred vision and glare at night to return, but an easy and painless solution is available to treat this. A thirty- to sixty-second procedure called a posterior capsulotomy, using an Nd: YAG laser, can be performed to remove the secondary membrane and let light pass clearly through the lens again.
The capsulotomy is performed in our in-office surgery center and is a painless procedure that does not require any anesthesia. It is routinely covered by your medical insurance. Once treated, the condition will never return. There are no restrictions after this laser and the effects are almost instantaneous.